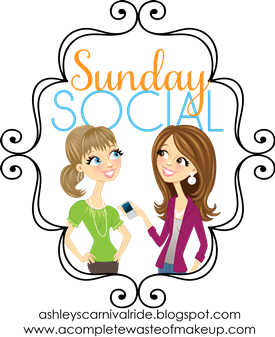 Happy Sunday everyone! It's time for another Sunday Social hosted by Neely over at A Complete Waste of Makeup.
This weeks questions are:
What is your favorite holiday season tradition?
Do you have a certain holiday movie that you watch more than others? If so, what is it?
Show us your favorite decoration or Pinterest decoration you wish you could have.
Favorite holiday song?
Favorite holiday dessert?
What is on your wish list this year?
What is your favorite holiday season tradition?

It's a fairly new tradition, but my Fiance & I take our dogs for a ride over to Valley Forge on Christmas morning to look for deer. :)

Do you have a certain holiday movie that you watch more than others? If so, what is it?

Muppet Christmas Carol is my absolute favorite Christmas movie. :)

Show us your favorite decoration...

My new wreath from Target, made with balls of yarn! :D I love it!



Favorite holiday song?

Baby, It's Cold Outside, would have to be my favorite. :)

Favorite holiday dessert?

It's a tie between Apple Pie & Chocolate Chip Cookies.

What is on your wishlist this year?

A few sweater dresses, a couple giftcards, yarn! :)

And that wraps up this weeks Sunday Social! :)
xox