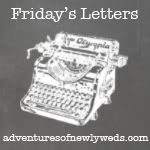 Dear Mister: I am sorry that the winter blues have got you down lately. I hate that you have been so moody & that we've been fighting so much. You get this way every winter & sadly there is nothing I can do to fix it. Pull it together before everything falls apart. It's just winter, it's a fact of life & moping around isn't going to change anything.
Dear UGI: Parking on our street is already a pain & you have been making it worse for the past two months. Why have you decided to work on our gas lines this week? It's the coldest it has been all year & you want to turn off our gas. Not cool dude.
Dear Walmart: We tend to pay you at least $200 a month. Why are you always out of everything we need? Also, you could really use a bigger & better organized yarn section. I was only able to buy one skein of yarn the other day since I couldn't even find where it's "home" was, to look for another one. Tsk Tsk.
Dear Budget: We've just started out, but I am happy to say that we are actually making it work. Hopefully in a few months, dear savings account, will have a slight buffer. Which will be a nice change from living paycheck to paycheck.
Dear Scale: You rock! You told me on Wednesday, our two week weigh in, that I have lost a little over seven pounds. *High five*! We got this!
Dear Winter: You know... we're kinda done with the below freezing temperatures. How about you turn up the heat a bit? Thanks.