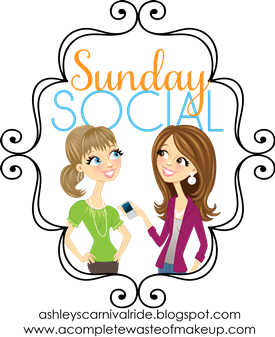 Happy Sunday everyone! I hope you are having a fantastic weekend!
I know I am! My mister has the next three days off, so we are just starting our weekend. :)
So let's get on with this week's questions shall we?
This week is a week of threes!
Top three favorite kinds of food.

Number one would have to be Sushi! I absolutely love it & honestly wish I could afford to eat it more often. The Red Dragon Roll at my local Sushi restaurant is to die for. I am entirely too in love with it.

Coming in second would be Mexican food. I grew up in Southern California, I am a Mexican food addict through & through. I honestly thing that is one of the hardest things about moving to the east coast. The people out here thing Taco Bell is real Mexican food. Yike! lol.

Third would have to be Chinese. Vegetable Lo Mein & Beef with Broccoli. So yummy! Luckily we have some pretty good Chinese food here on the east coast. So, I'm surviving. lol.

First three things you do in the morning.

First three things, well... I get dressed, go to the restroom, & come down stairs to give my Mister a good morning kiss. :)

Last three things you do at night.
Let Odin out potty, take my medicine, & go to the restroom.

Three television shows you NEVER miss.

Well I kind of miss them all since I don't have cable, we only have Netflix. But there are a few shows that I watch the entire season of in like three days, as soon as they are released on Netflix. Warehouse 13, Vampire Diaries, GREY'S 'FREAKIN' ANATOMY! Gosh, I love that show. ♥

Three places you want to visit.

Currently, I want to visit my family in California. I want to fly to Las Vegas with my Mister & get hitched. Oh, and I would also like to see the Grand Canyon, since I have not been there since I was an itty bitty.

Three people you can always count on.

You know, you can always count on yourself. That's what they always say anyway. Either way, three people other than me I know I can always count on. My Mister, my Dad, & my Grandma.