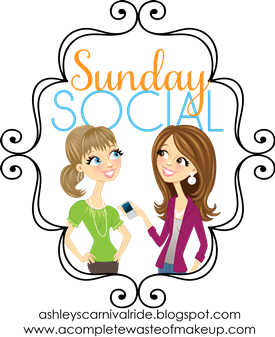 We're getting deep for this week's Sunday social. Once again I am teaming up with Neely from
A Complete Waste Of Makeup
, for Sunday Social!
What is your ideal way to relax?
I enjoy curling up on the couch & watching television while I work on my current crochet project. In the summer I enjoy swimming. I love to sink down in a hot bubble bath, but we currently only have a stand up shower. Ick!

Where is your favorite place to be?
Honestly at home. I am a complete homebody. Other than that, I love being in the passengers seat in the car, destination unknown. Just going where the road takes you.

Who do you consider your biggest role model?
I don't believe I currently have a "role model". I tend to live my life as an individual fully knowing that there is no such thing as a perfect person. Instead of following others, I tend to follow the person who I hope to become.

What does your life look like in 3 years?
Hopefully married, with a new addition to our family. That would be my ultimate wish to have in three years.

If you could go back and change one decision what would it be?
I'd like to say I'd change the side I ended up on during my parents divorce when I was twelve. However, I strongly believe that we are where we are supposed to be for a reason. And changing one thing, might throw everything off course.

What is your biggest accomplishment in life thus far?
Overcoming some of the person issues that have weighed me down since I was a child. Becoming a much stronger person & knowing that the abuse I went through was not my fault. Knowing that many people have struggled with similar problems & that it's up to me if I want to remain the victim or not.